TREE TOPS (House)
3 Bedroom(s) | 3 Bathroom(s) | Sleeps 6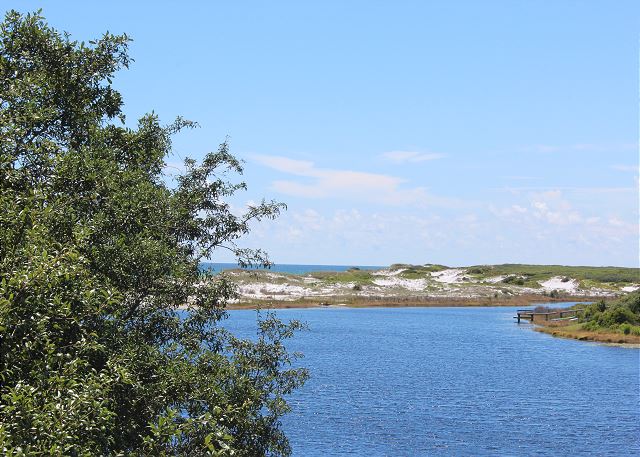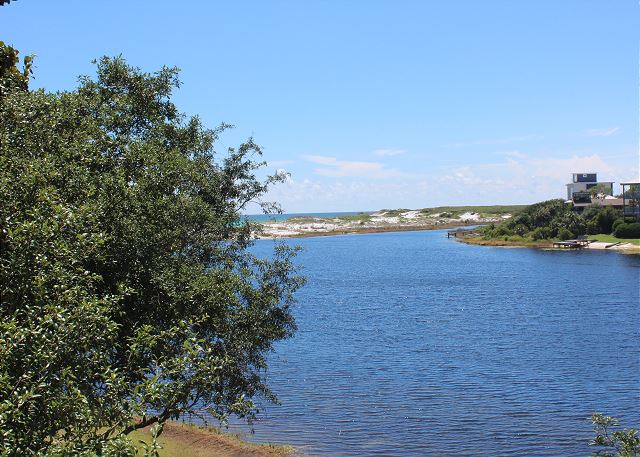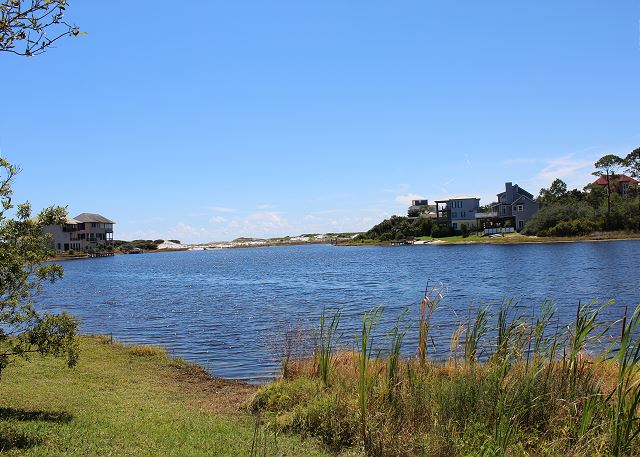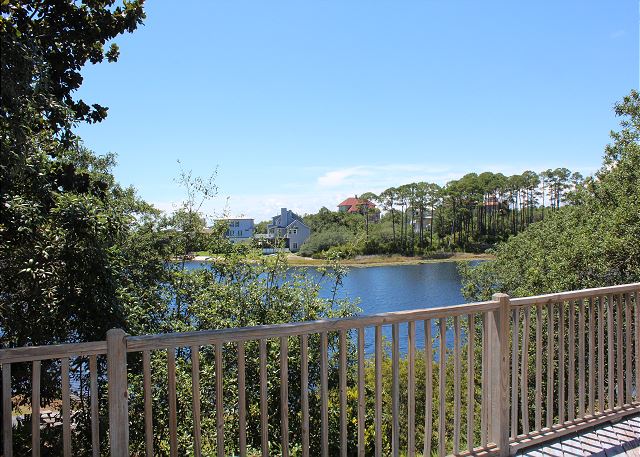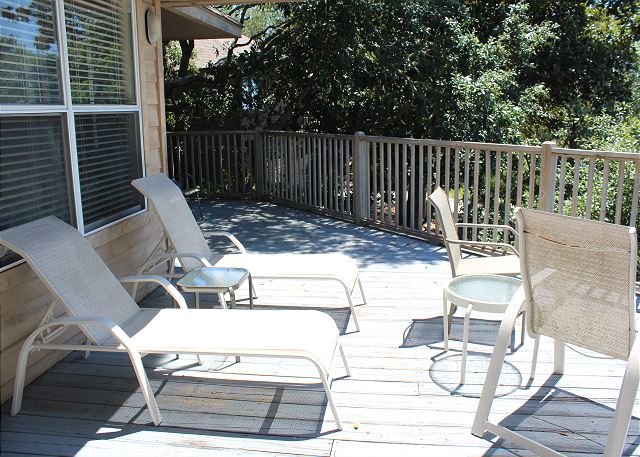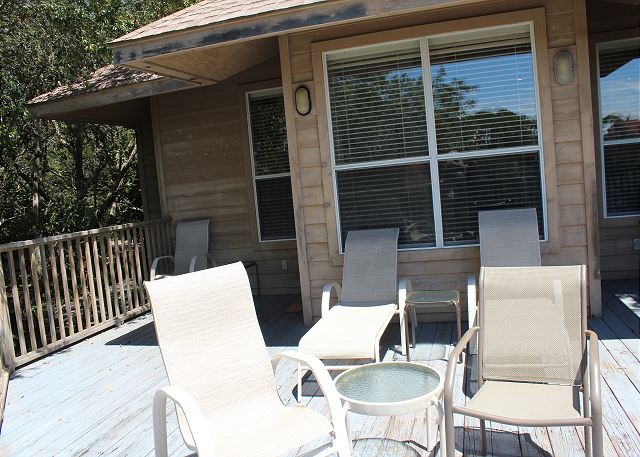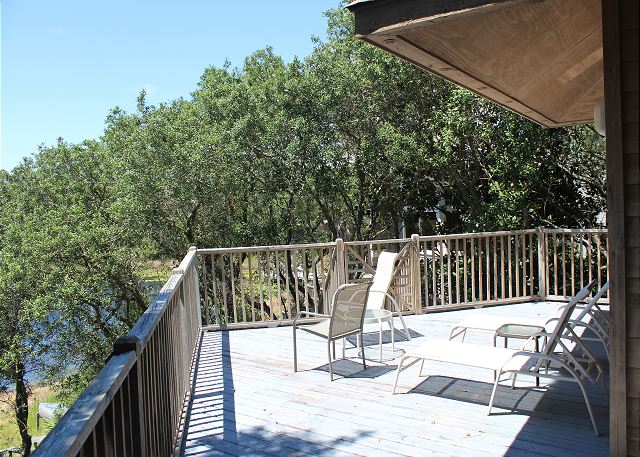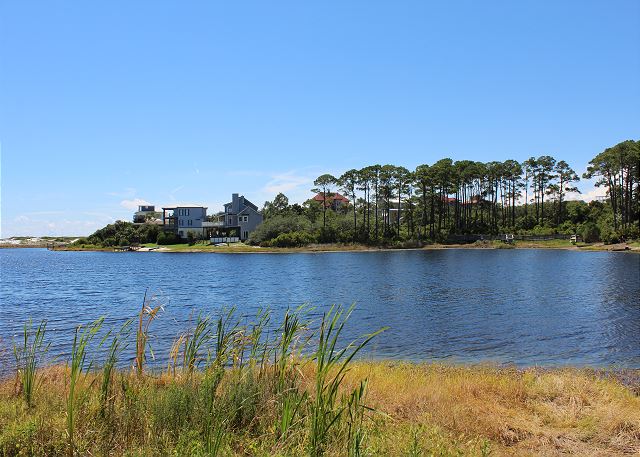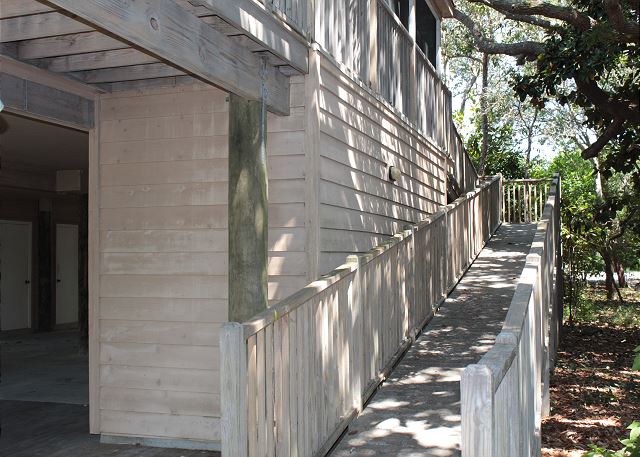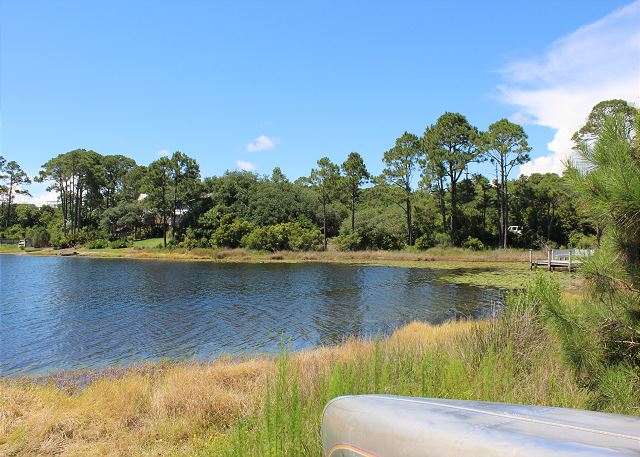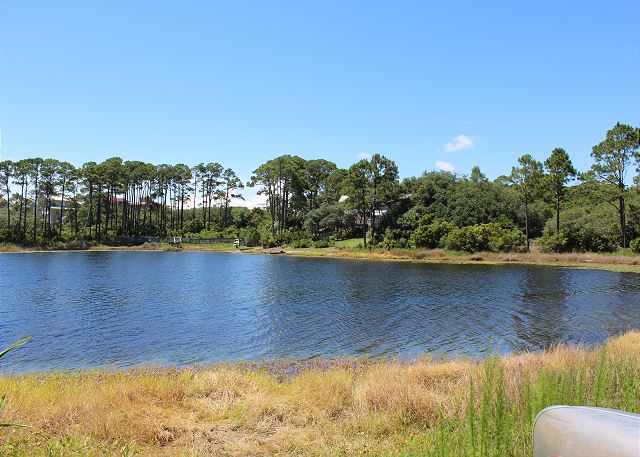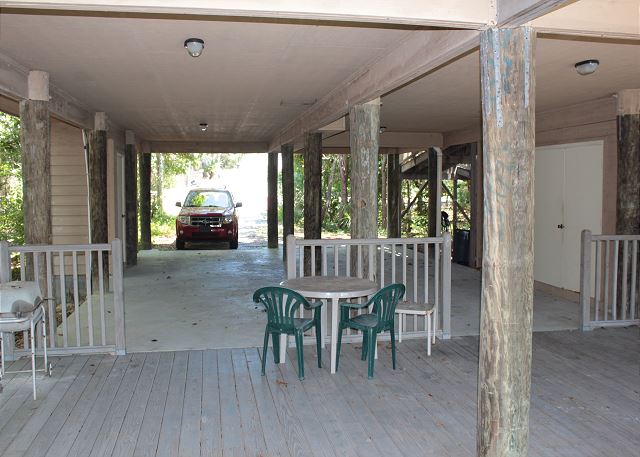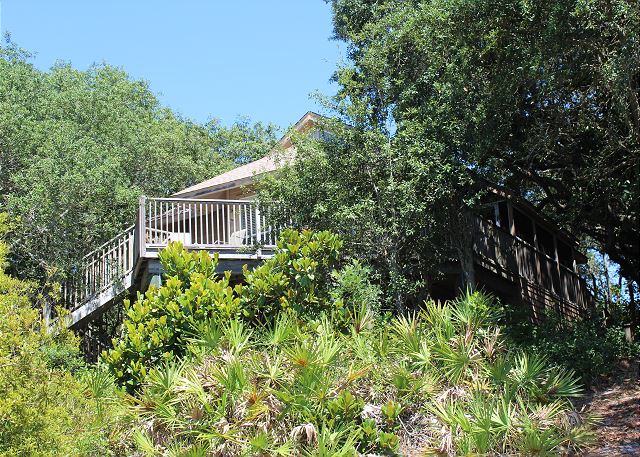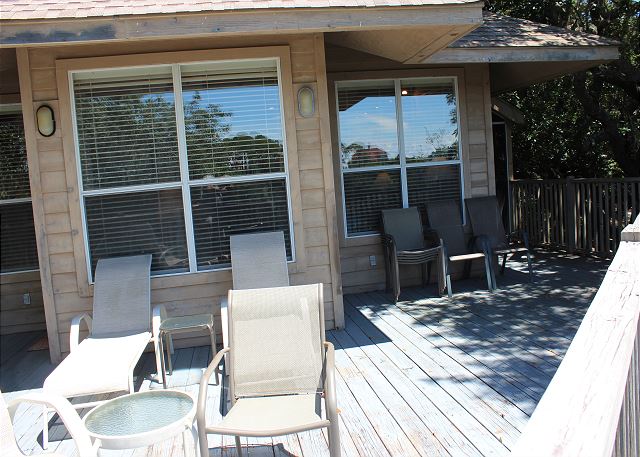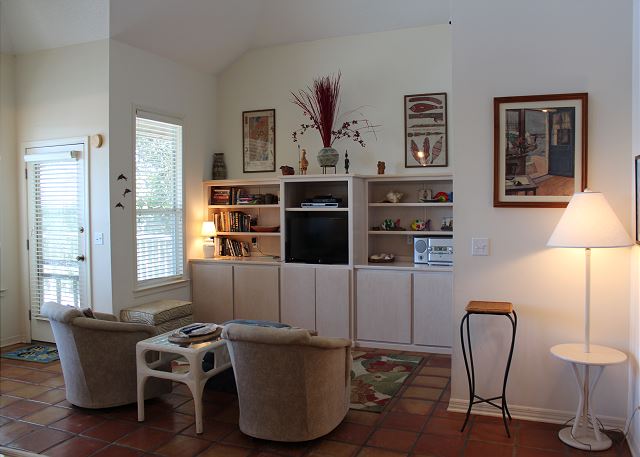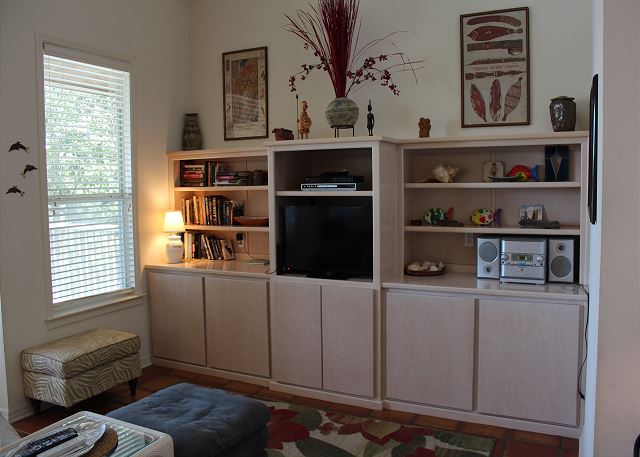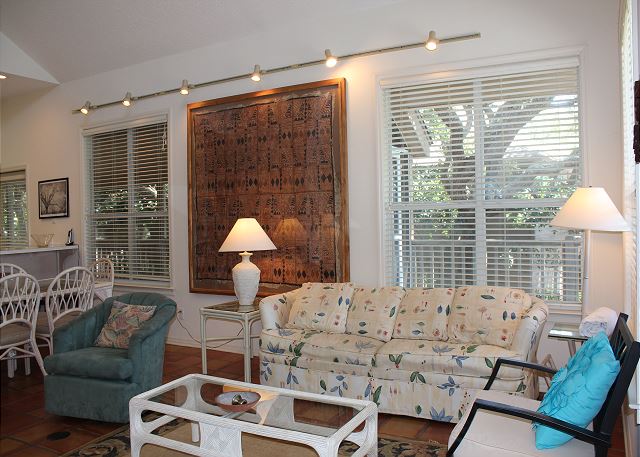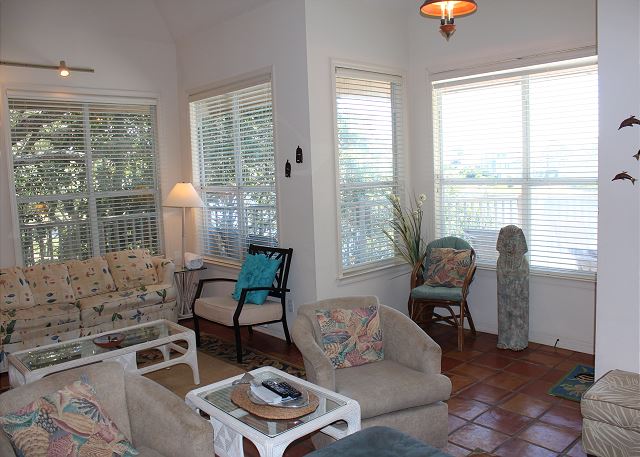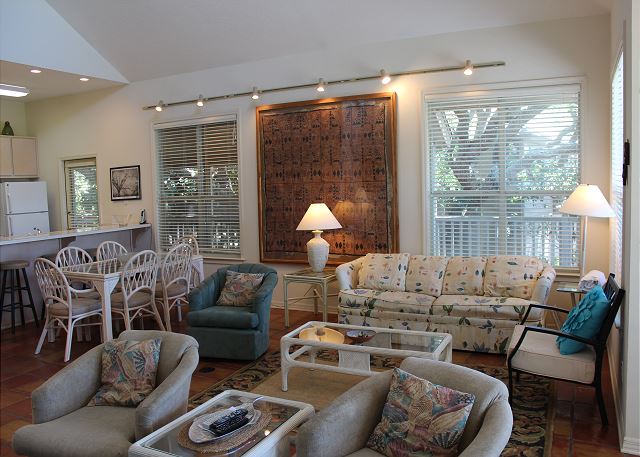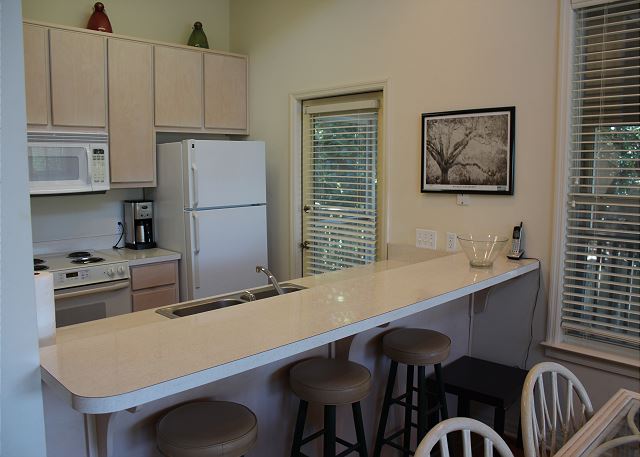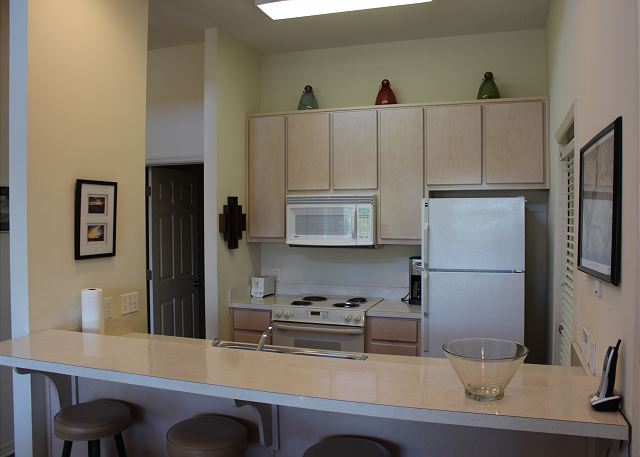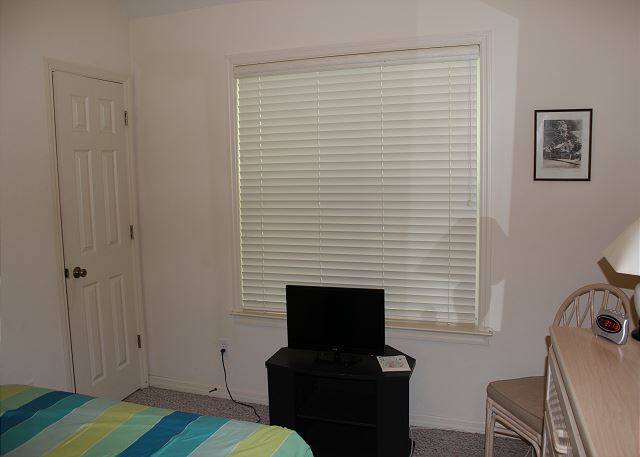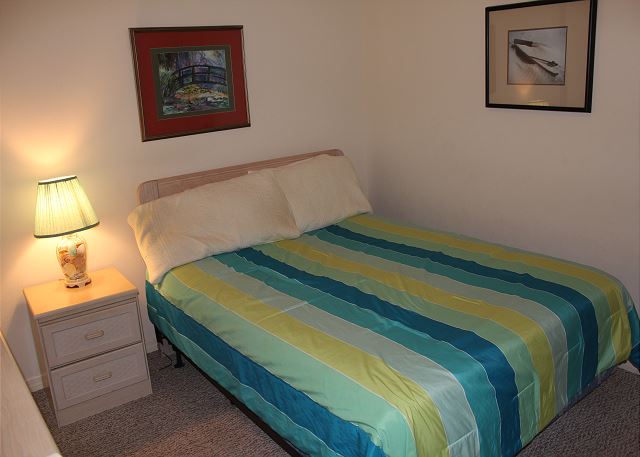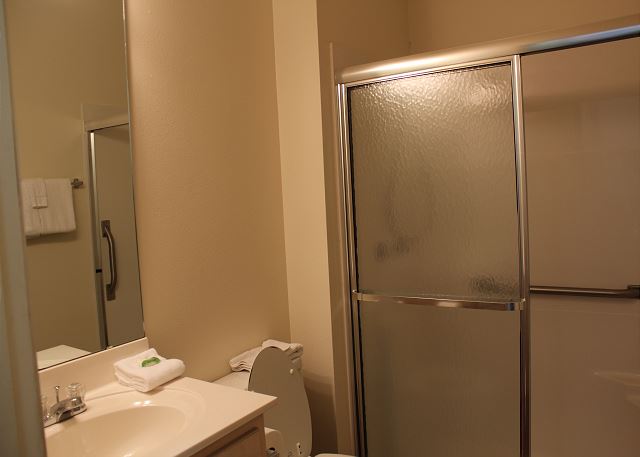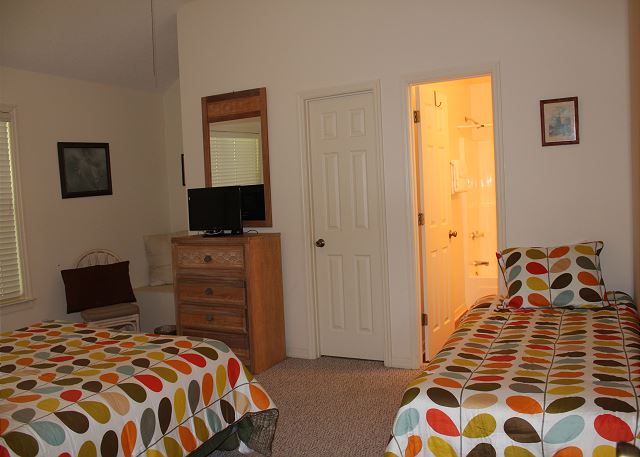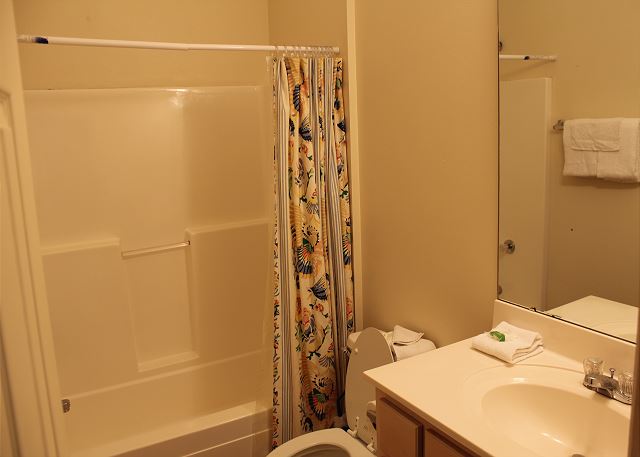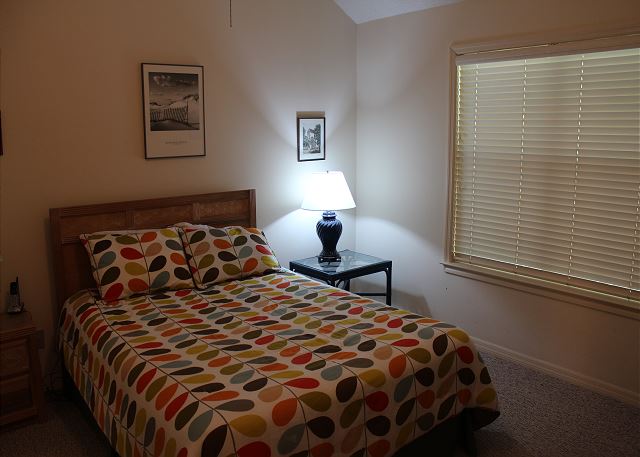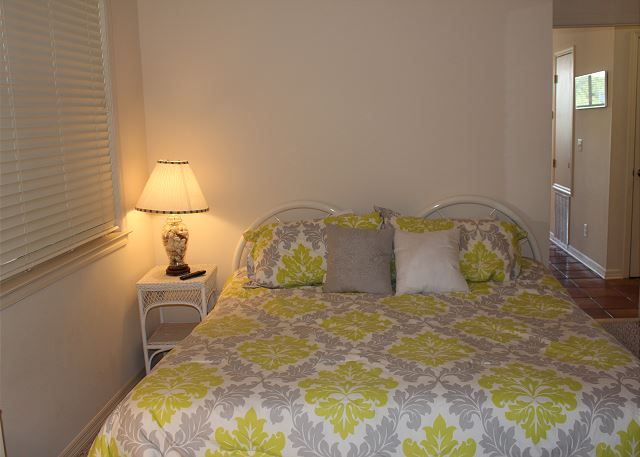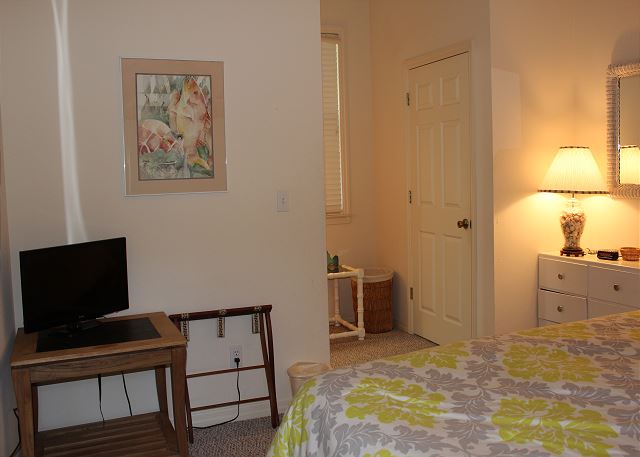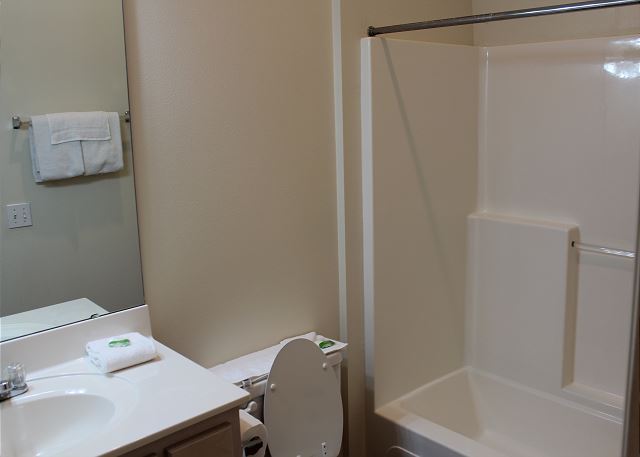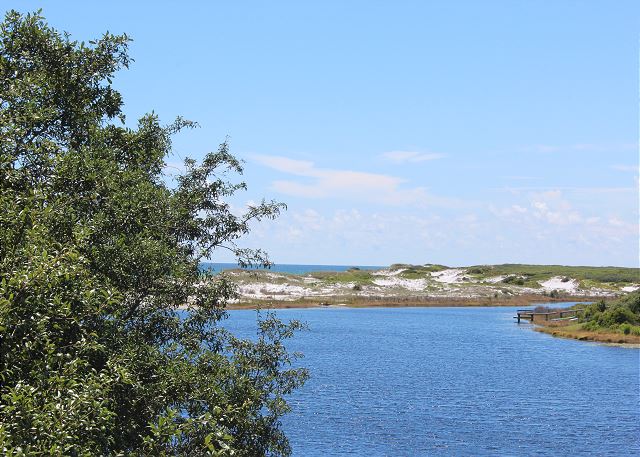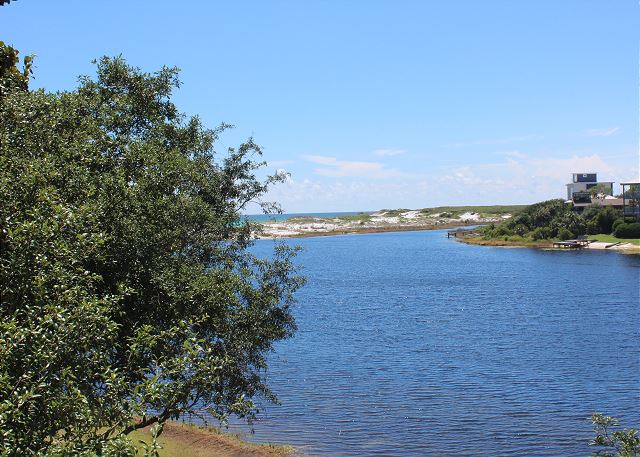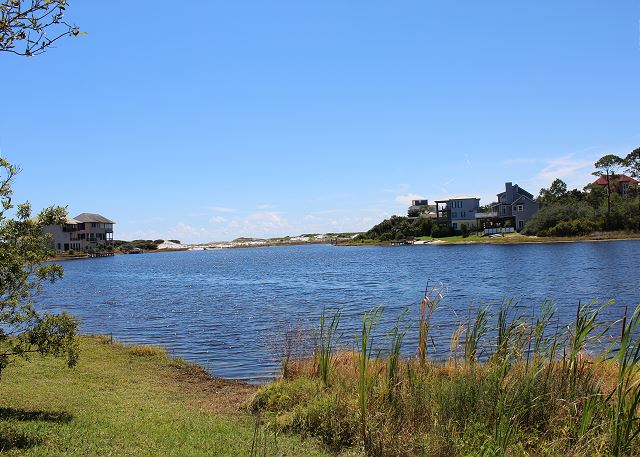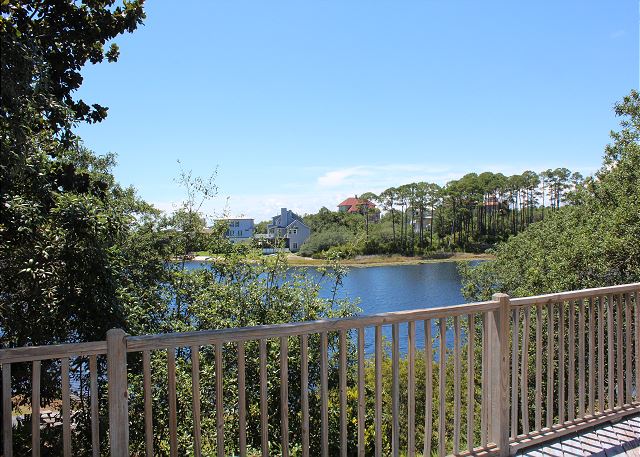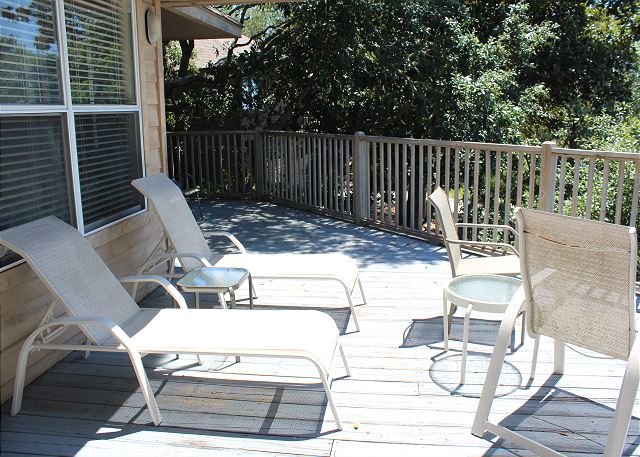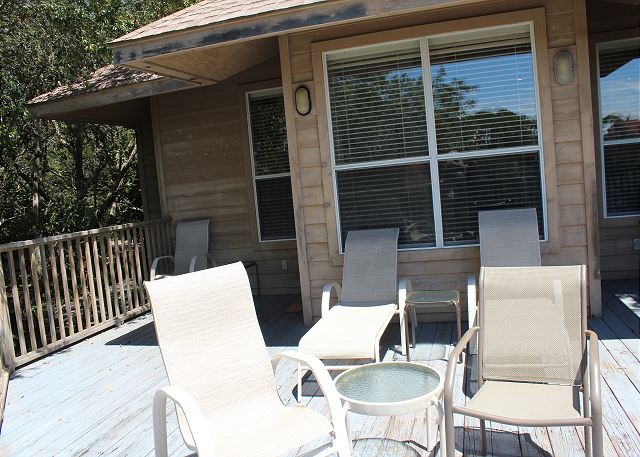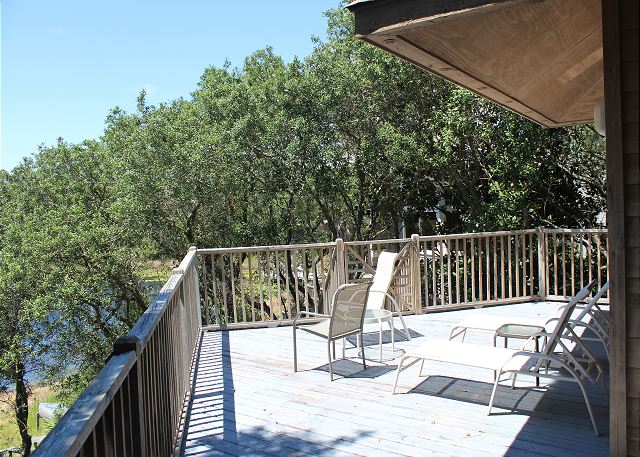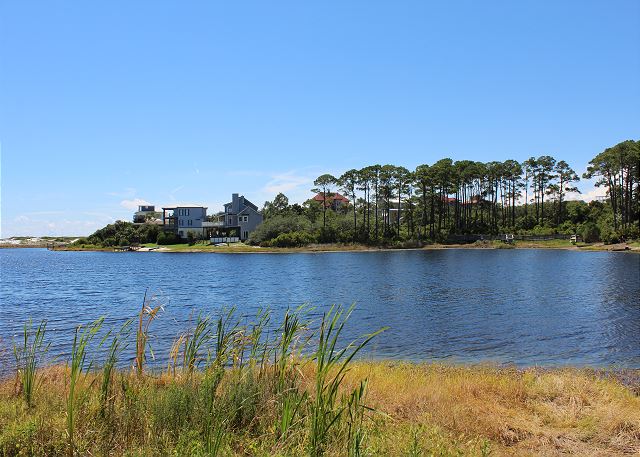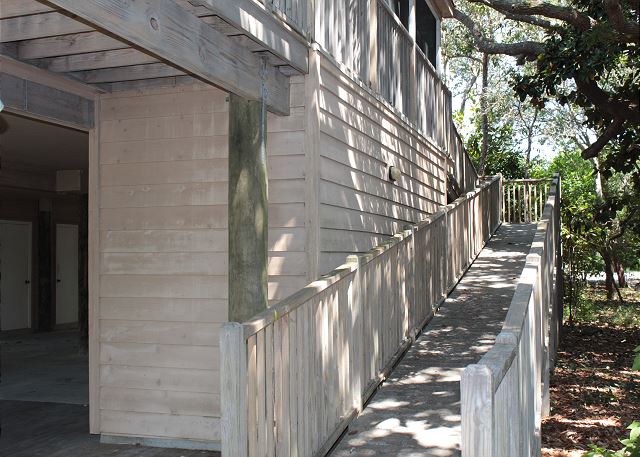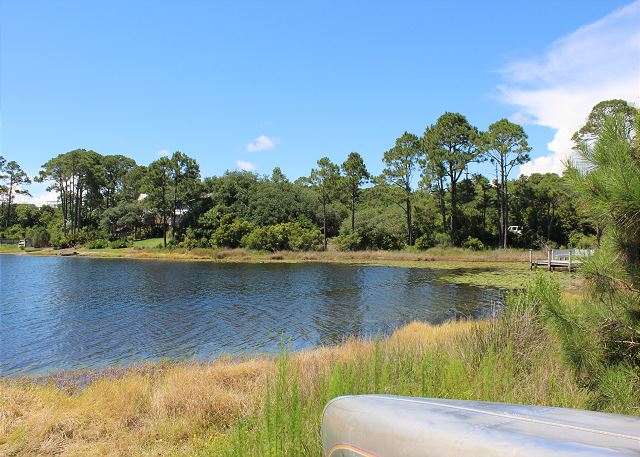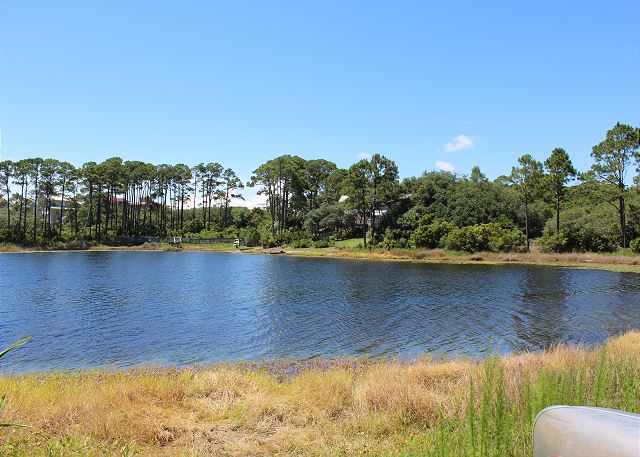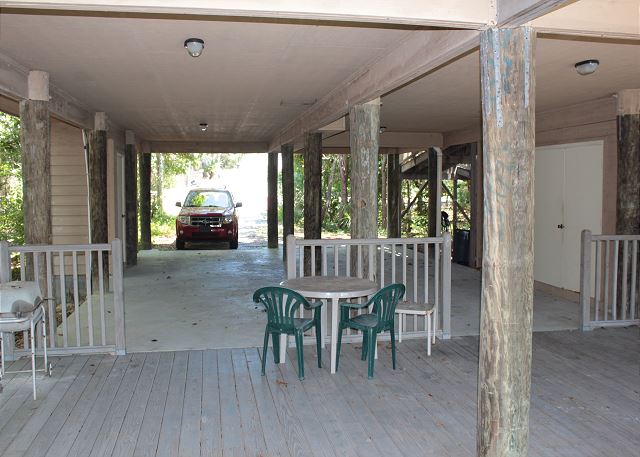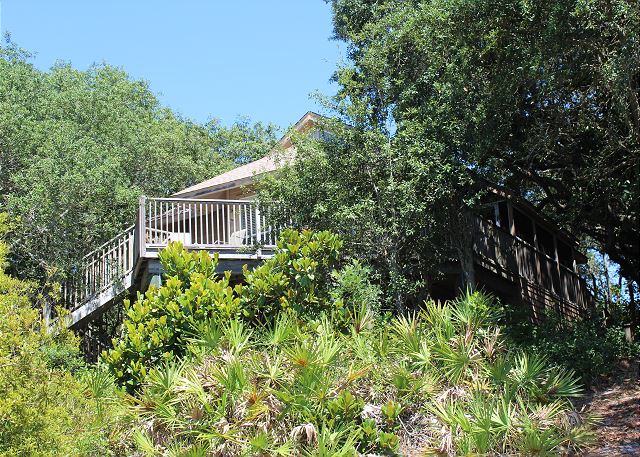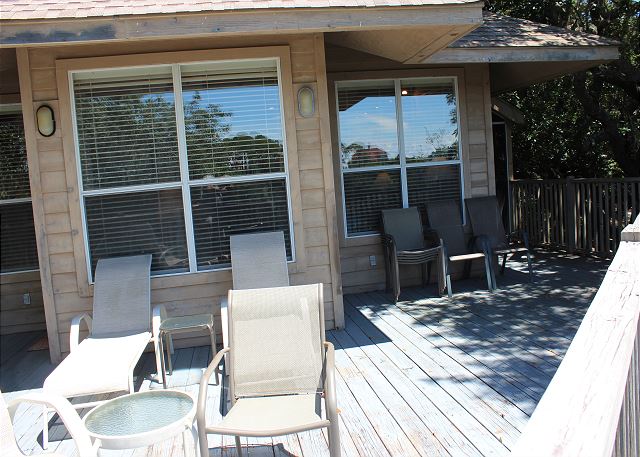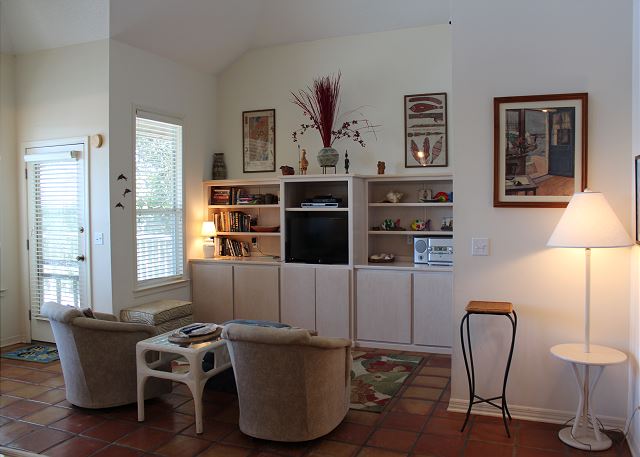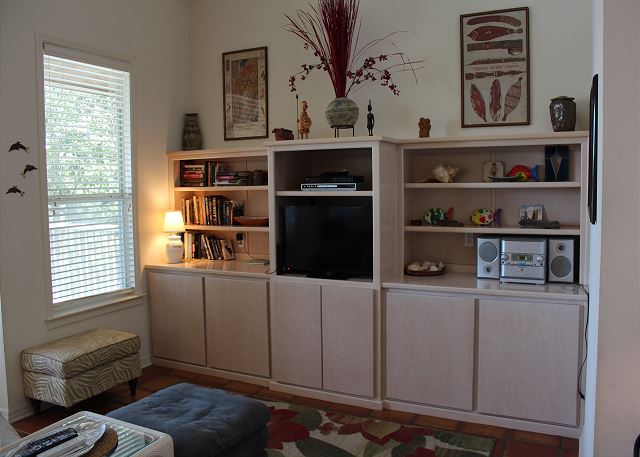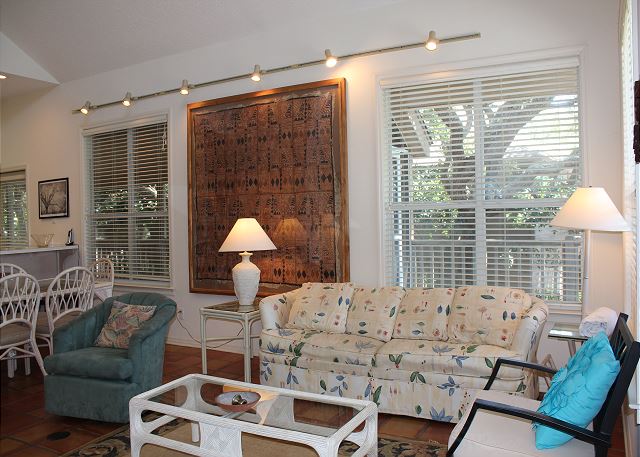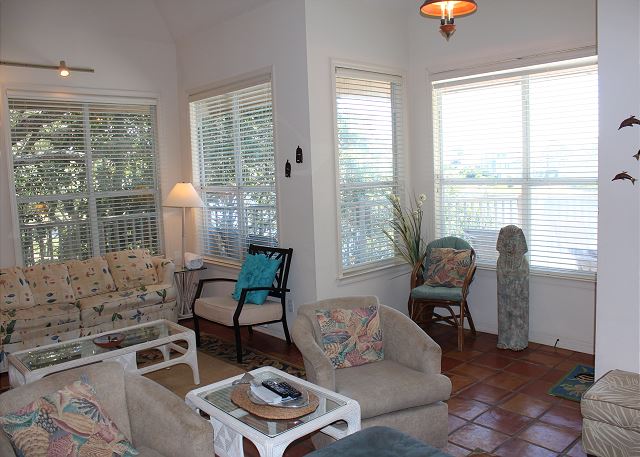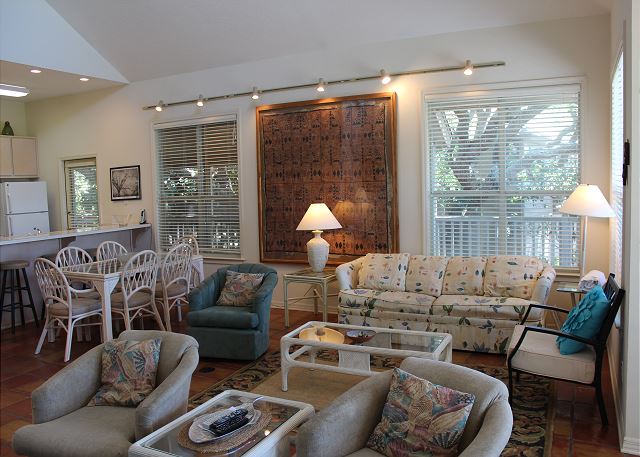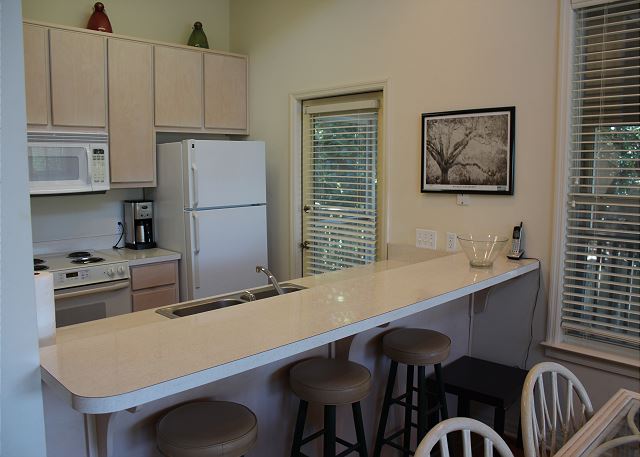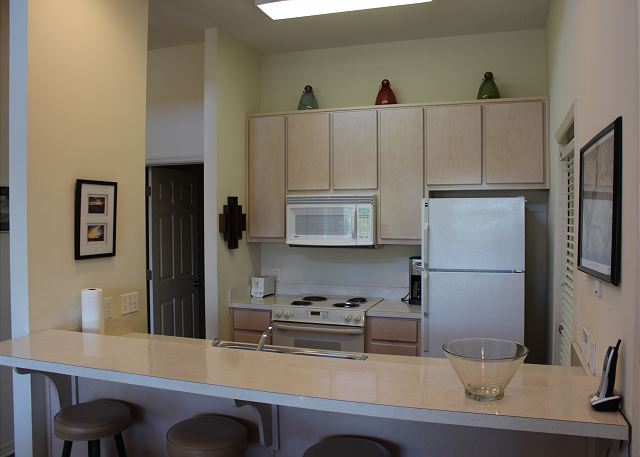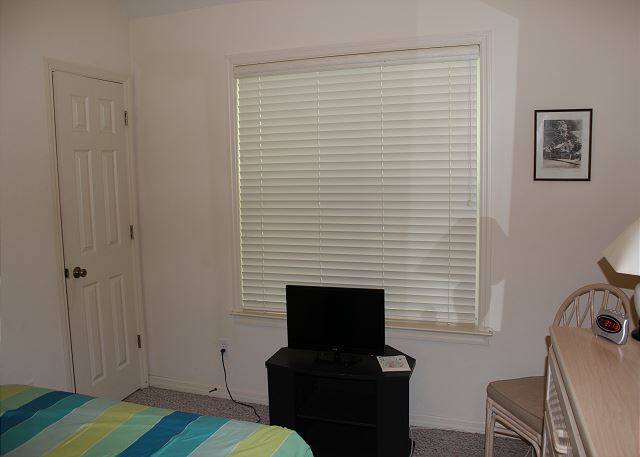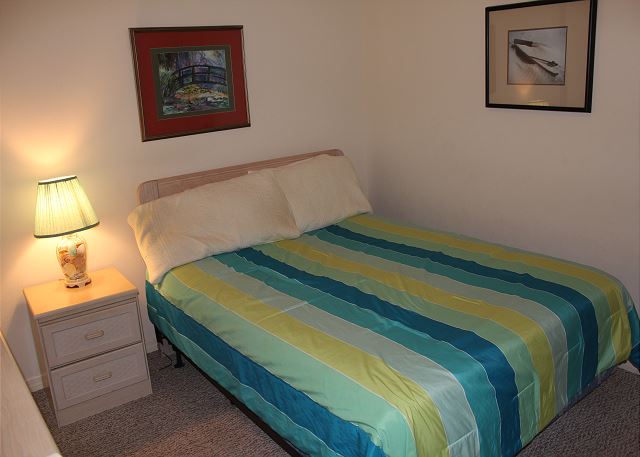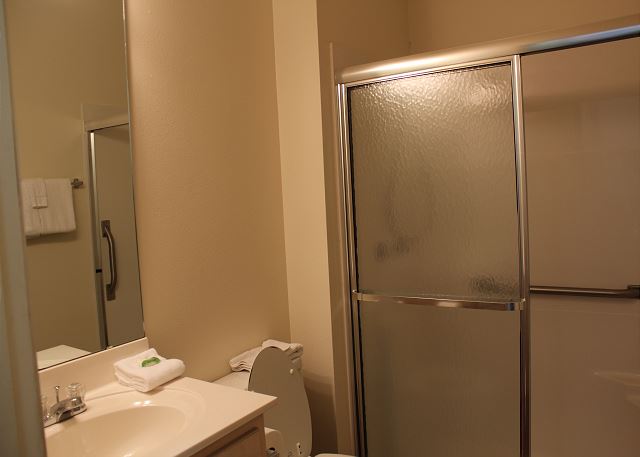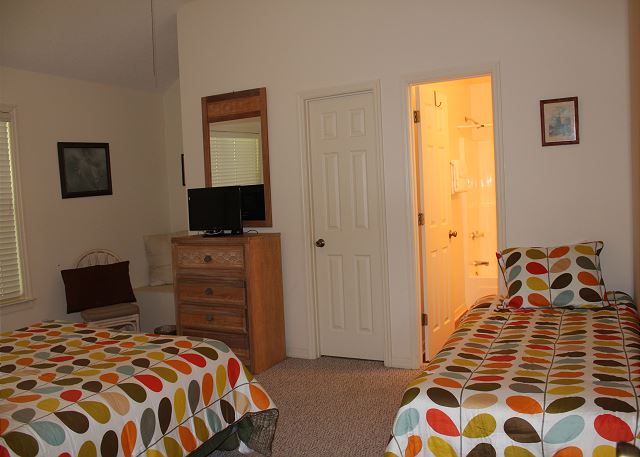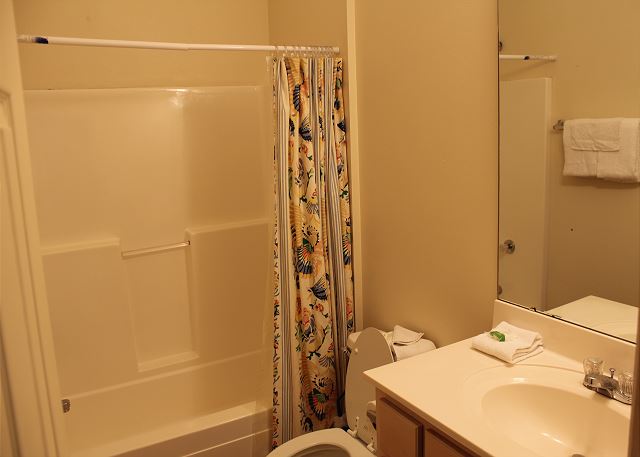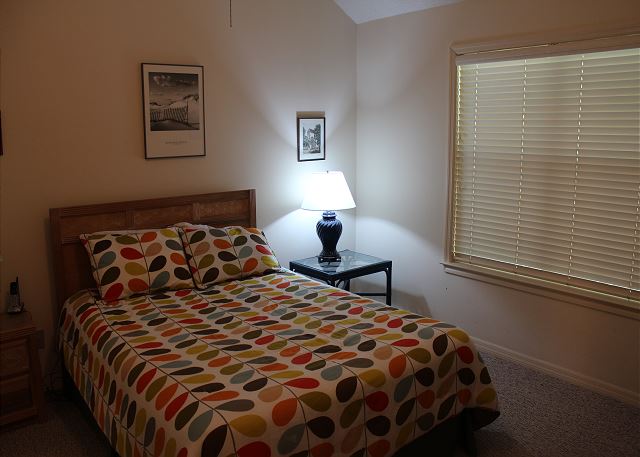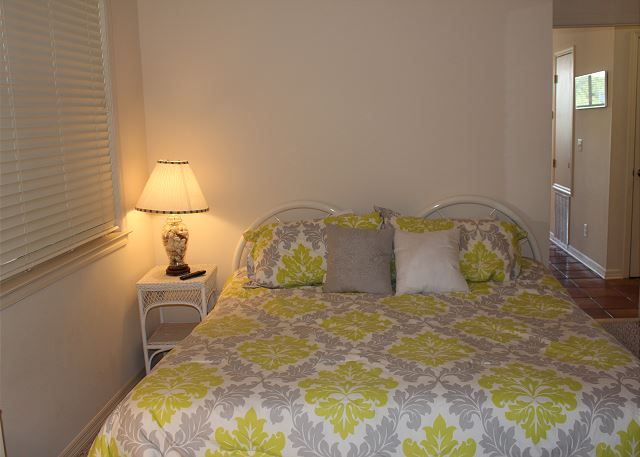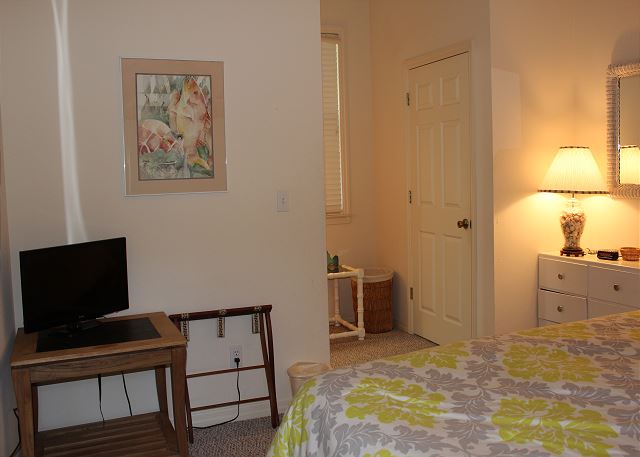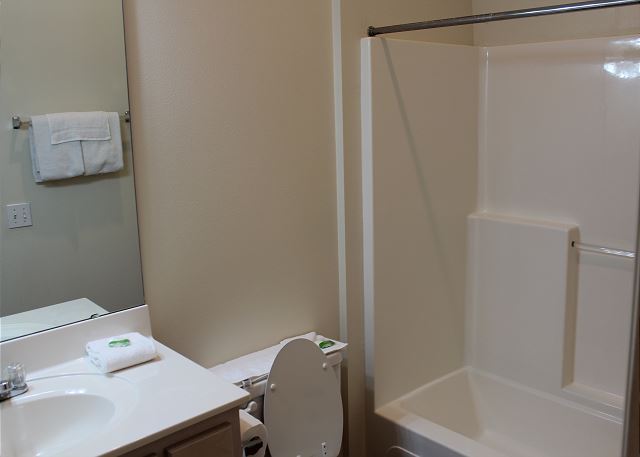 Description
****************ALL PROPERTIES ARE SANITIZED PRIOR TO GUEST ARRIVAL*************

Treetops, is more of a rustic cabin style home.

Very secluded vacation home that resides in the shaded oaks that are prevelant along the gulf coast. This beautiful home is nestled along the dunes with awesome views of Stallworth Lake and the Gulf of Mexico. Just steps(approx 250yds.) to the beach access. If you are seeking a private tranquil vacation away from the rat race this is it. This home comes with a fully equipped kitchen full size washer/dryer and linens and towels provided. You will be just five minutes from Destin. Just minutes to shopping and fine dining. You will absolutely love the location of this vacation home and the privacy and seclusion that it offers.



You will be just minutes from shopping and fine dining, and just a few minutes to the Commons Shopping Center and even closer to the Silver Sands Shopping Center (approx. 5 minutes) located near Sanddestin.



This is in a private neighborhood that offers seclusion and just steps to the sugar white sands that the beaches of South Walton are known for.



There is so much to do you will have to book this wonderful house again and pick up where you left off.



FREE WIFI
Calendar
January 2022

| S | M | T | W | T | F | S |
| --- | --- | --- | --- | --- | --- | --- |
| | | | | | | 01 |
| 02 | 03 | 04 | 05 | 06 | 07 | 08 |
| 09 | 10 | 11 | 12 | 13 | 14 | 15 |
| 16 | 17 | 18 | 19 | 20 | 21 | 22 |
| 23 | 24 | 25 | 26 | 27 | 28 | 29 |
| 30 | 31 | | | | | |
February 2022

| S | M | T | W | T | F | S |
| --- | --- | --- | --- | --- | --- | --- |
| | | 01 | 02 | 03 | 04 | 05 |
| 06 | 07 | 08 | 09 | 10 | 11 | 12 |
| 13 | 14 | 15 | 16 | 17 | 18 | 19 |
| 20 | 21 | 22 | 23 | 24 | 25 | 26 |
| 27 | 28 | | | | | |
March 2022

| S | M | T | W | T | F | S |
| --- | --- | --- | --- | --- | --- | --- |
| | | 01 | 02 | 03 | 04 | 05 |
| 06 | 07 | 08 | 09 | 10 | 11 | 12 |
| 13 | 14 | 15 | 16 | 17 | 18 | 19 |
| 20 | 21 | 22 | 23 | 24 | 25 | 26 |
| 27 | 28 | 29 | 30 | 31 | | |
April 2022

| S | M | T | W | T | F | S |
| --- | --- | --- | --- | --- | --- | --- |
| | | | | | 01 | 02 |
| 03 | 04 | 05 | 06 | 07 | 08 | 09 |
| 10 | 11 | 12 | 13 | 14 | 15 | 16 |
| 17 | 18 | 19 | 20 | 21 | 22 | 23 |
| 24 | 25 | 26 | 27 | 28 | 29 | 30 |
May 2022

| S | M | T | W | T | F | S |
| --- | --- | --- | --- | --- | --- | --- |
| 01 | 02 | 03 | 04 | 05 | 06 | 07 |
| 08 | 09 | 10 | 11 | 12 | 13 | 14 |
| 15 | 16 | 17 | 18 | 19 | 20 | 21 |
| 22 | 23 | 24 | 25 | 26 | 27 | 28 |
| 29 | 30 | 31 | | | | |
June 2022

| S | M | T | W | T | F | S |
| --- | --- | --- | --- | --- | --- | --- |
| | | | 01 | 02 | 03 | 04 |
| 05 | 06 | 07 | 08 | 09 | 10 | 11 |
| 12 | 13 | 14 | 15 | 16 | 17 | 18 |
| 19 | 20 | 21 | 22 | 23 | 24 | 25 |
| 26 | 27 | 28 | 29 | 30 | | |
July 2022

| S | M | T | W | T | F | S |
| --- | --- | --- | --- | --- | --- | --- |
| | | | | | 01 | 02 |
| 03 | 04 | 05 | 06 | 07 | 08 | 09 |
| 10 | 11 | 12 | 13 | 14 | 15 | 16 |
| 17 | 18 | 19 | 20 | 21 | 22 | 23 |
| 24 | 25 | 26 | 27 | 28 | 29 | 30 |
| 31 | | | | | | |
August 2022

| S | M | T | W | T | F | S |
| --- | --- | --- | --- | --- | --- | --- |
| | 01 | 02 | 03 | 04 | 05 | 06 |
| 07 | 08 | 09 | 10 | 11 | 12 | 13 |
| 14 | 15 | 16 | 17 | 18 | 19 | 20 |
| 21 | 22 | 23 | 24 | 25 | 26 | 27 |
| 28 | 29 | 30 | 31 | | | |
September 2022

| S | M | T | W | T | F | S |
| --- | --- | --- | --- | --- | --- | --- |
| | | | | 01 | 02 | 03 |
| 04 | 05 | 06 | 07 | 08 | 09 | 10 |
| 11 | 12 | 13 | 14 | 15 | 16 | 17 |
| 18 | 19 | 20 | 21 | 22 | 23 | 24 |
| 25 | 26 | 27 | 28 | 29 | 30 | |
October 2022

| S | M | T | W | T | F | S |
| --- | --- | --- | --- | --- | --- | --- |
| | | | | | | 01 |
| 02 | 03 | 04 | 05 | 06 | 07 | 08 |
| 09 | 10 | 11 | 12 | 13 | 14 | 15 |
| 16 | 17 | 18 | 19 | 20 | 21 | 22 |
| 23 | 24 | 25 | 26 | 27 | 28 | 29 |
| 30 | 31 | | | | | |
November 2022

| S | M | T | W | T | F | S |
| --- | --- | --- | --- | --- | --- | --- |
| | | 01 | 02 | 03 | 04 | 05 |
| 06 | 07 | 08 | 09 | 10 | 11 | 12 |
| 13 | 14 | 15 | 16 | 17 | 18 | 19 |
| 20 | 21 | 22 | 23 | 24 | 25 | 26 |
| 27 | 28 | 29 | 30 | | | |
December 2022

| S | M | T | W | T | F | S |
| --- | --- | --- | --- | --- | --- | --- |
| | | | | 01 | 02 | 03 |
| 04 | 05 | 06 | 07 | 08 | 09 | 10 |
| 11 | 12 | 13 | 14 | 15 | 16 | 17 |
| 18 | 19 | 20 | 21 | 22 | 23 | 24 |
| 25 | 26 | 27 | 28 | 29 | 30 | 31 |
Available
Unavailable
Check-In Only
Check-Out Only
Seasonal Rates
| Date Range | Daily | Weekly | Monthly |
| --- | --- | --- | --- |
| 01/01/2022 - 03/04/2022 | $210.00 | $1,050.00 | $4,620.00 |
| 03/05/2022 - 05/20/2022 | $200.00 | $1,365.00 | $6,060.00 |
| 05/21/2022 - 06/24/2022 | N/A | $1,800.00 | N/A |
| 06/25/2022 - 07/08/2022 | N/A | $2,250.00 | N/A |
| 07/09/2022 - 09/30/2022 | $170.00 | $1,600.00 | $6,740.00 |
| 10/01/2022 - 10/21/2022 | $275.00 | $1,850.00 | N/A |
| 10/22/2022 - 11/18/2022 | $115.00 | $775.00 | N/A |
* Seasonal rates are only estimates and do not reflect taxes or additional fees.
Location
Guest Reviews of
TREE TOPS
SANTA ROSA BEACH, FL
---
Vacation Rental Reviews by
stars based on
Comfortable Stay at Tree Tops
Review by
Brenda R.
We recommend! The house is roomy enough for six guests, and each bedroom having its bathroom was a nice plus. We'd love it if the deck were covered or if trees were cut back for a better view of the lake, but we'd stay there again. Probably will book for next summer. When we had A/C problems, the management was prompt in getting someone out to the house. The A/C was fixed quickly. That type of thing is so important.The walk from the house is pleasant and short. No golf cart needed. I'd say it took about five minutes, so that was terrific. We left our things on the beach (except for phones, valuables, etc.) whenever we went in for awhile, and everything was perfectly safe. All there when we got back.The house could use a face lift, but comfort is more important to us, and it was certainly comfortable, so GREAT! We enjoyed our stay in the house, and the beach can't be beat. Having a code to unlock the door rather than a key eliminated the worry of who has the key, which is always a bother. House has its own hose to shower off after the beach, another plus.Altogether, we definitely recommend if you're looking for a private place to stay (we enjoyed the privacy) with the feel of a neighborhood and a view of the lake with the beach right there. We enjoyed that, too. If it fits your needs for the number in your party, I'd say to go for it. You won't be sorry. We've spent many summers on 30A, but we'd never stayed in Santa Rosa Beach. We'll definitely go back there. It was hard to leave, and the house, again, was comfortable.
4 out of 5 stars
Manager Response:
Thank you for your review, and recommendation. Treetops is one of a kind, just off the beaten path, it offers, the ultimate in privacy, just a few short steps to the pristine sugar white sand beaches. This property has awesome lake views, and is close to everything, shopping, and dining are just minutes away. Thanks again for being our guest, we are looking forward to your next stay.
Treetops
Review by
Blair t.
I have been coming to Treetops for about 20 years off and on- I love the location-the lake and the gulf- unfortunately I don't think the family takes a true interest in the maintenance and landscaping. The yard needs some work- the house is clean but there was an issue that was addressed. Staff was very accommodating and any issue was addressed promptly. My groups have always loved the deck at any time of day.
4 out of 5 stars
Manager Response:
Thank you for your review. After the mother (owner), passed away, the five children have been at odds, with that situation as it is the needed yard work will be done by our agency.
Excellent
Review by
Kyle C.
For the price, it doesn't get much better than this. The house is a bit older, but it was perfect for what we needed. All cooking utensils were already there. There is a Weber Kettle grill under the house. I wish some of the trees were trimmed back for a better view from the deck, but it was still nice. Was a little difficult to fish the lake too. A dock would be a great addition. It was nice to be able to kayak across the lake to the beach. No need to drag it down the street and across the walkway. The bedding was a little off from the description. One room has 2 twins pushed together to make a king, and they are worn out and very uncomfortable. The other two rooms had queens and one had an extra twin in it. Worked out perfect for out 3yr old daughter. If you're looking for a very affordable place to get away, look no further. We will definitely be coming back.
5 out of 5 stars
Treetops
Review by
Travis H.
Enjoyed our stay the house was awesome
5 out of 5 stars
Contact Us